Here is what I just found out on my website,
"This page isn't working www.mysite.com is currently unable to handle this request.
HTTP ERROR 500″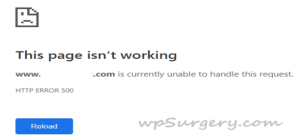 What is it? How to fix it?
Let's see…
It might be something wrong with my theme, I guess. The first solution I have in my mind right now is going to fix my website's theme back to a default theme but how? I can't get inside the administration dashboard; there is no way I can access to the theme.
Let's go finding a way to fix it.
It doesn't matter how I tried to access to the admin board, it wouldn't let me in. I'm still stuck here.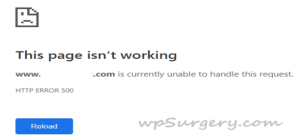 I tried both, http://www.mysite.com/wp-admin and http://www.mysite.com/wp-login.php; none of them works.
Okay, let's try another way and then see does it work?
Here is what I have in my mind, I'll try it and let's you know later.
Access to FTP. Alternate the name of the current using theme, then WordPress system automatically change the website back to the default theme. I think it's be back my site to Twenty Nineteen theme, I guess so. Let's see.
~~~~~~~~~~~~~~~
Okay, I tried, I changed all themes' names except Twenty Nineteen theme but it still doesn't work. Let's figure out another way.
Now, I go to deactivate all of plugins to see whether it works again.
At the FTP server, I changed all my website's plugin names by add 2018 in front of the plugin name. Then, go to refresh the site. Now there is something changed.
"The theme directory "tempera" does not exist."
Okay, it seem it works. Because I changed the site's theme in previous section except Twenty Nineteen theme.
Now, let's me change back the theme's name to see what happens.
Okeee doookee, it works.
~~~~~~~~~~~~~~~
Now, let's rename the plugins back to original plugin names one by one to see which one is a problematic.
Okay, my first try is Ad Inserter, then the site is back to the error, so change it name again and continue test on the rest of the plugins. I rename the rest of the plugins back to original names, there is no problem with the site, so there only problem with Ad Inserter plugin.
Now, I go back to the website and access to the administrator board and see the note saying need to update Ad Inserter. After updating Ad Inserter, the site works fine, nothing is wrong anymore.
The problem is solved.
~~~~~~~~~~~~~~~~~~~~~~~~~~~~~~
~~~~~~~~~~~~~~~RECAP~~~~~~~~~~~~~~~
~~~~~~~~~~~~~~~~~~~~~~~~~~~~~~
Let's me sum up the solution.
How to Fix the 500 Internal Server Error in WordPress
http://www.wpsurgery.com/how-to-fix-the-500-internal-server-error-in-wordpress/
(Visited 1,626 times, 1 visits today)